Golden Hour
Regular price

Sale price

$50.00
Pure 100% Natural Plant Oils
Vegan & Cruelty Free
AS SEEN IN
Camelia & Jasmine Body Oil – 150ML
Leaves a beautiful glowy finish on the skin.

Mood uplifting summer scent.
Deeply hydrating, yet light and silky formula.
Apply to damp skin straight out of the shower or bath for ultimate absorption.
Ingredients

Camellia: Rich in antioxidants, vitamins, and fatty acids, it's a powerful oil for moisturising and protecting the skin from environmental damage. Camellia oil helps improve skin texture and reduces the appearance of fine lines.
Fractionated Coconut Oil: This lightweight oil is easily absorbed and provides deep hydration without clogging pores. It helps maintain the skin's natural moisture barrier and can soothe sensitive or irritated skin.
Grape Seed Oil: A non-greasy oil that is high in antioxidants and omega-6 fatty acids. Grape Seed Oil helps to tighten and moisturise the skin.
Jojoba Seed Oil: An effective moisturiser, Jojoba Seed Oil helps to regulate oil production, balance, and protect the skin.
Vitamin E: A powerful antioxidant that helps protect the skin from oxidative stress and UV damage. It supports skin healing, reduces inflammation, and promotes a more even skin tone.
Sea Buckthorn Seed Oil: Rich in vitamins, fatty acids, and antioxidants, it helps promote skin regeneration, improve elasticity, healing, and hydration.
Mandarin Oil: Soothes, helps improve the skin's texture, promotes collagen production, and has a delicate uplifting, mood-boosting scent.
Jasmine Extract: Calms and soothes while helping balance moisture levels, improve skin elasticity, and provide a relaxing aroma.


Full ingredients list:

CAMELLIA OLEIFERA (CAMELLIA), CAPRIC TRIGLYCERIDES (FRACTIONATED COCONUT OIL), VITIS VINIFERA (GRAPE) SEED OIL, BUTYROSPERMUM PARKII (SHEA) SEED OIL, SIMMONDSIA CHINENSIS (JOJOBA) SEED OIL, TOCOPHEROL (VITAMIN E), HIPPOPHAE RHAMNOIDES (SEA BUCKTHORN) SEED OIL, CITRUS BERGAMIA (BERGAMOT) FRUIT OIL, CITRUS NOBILIS (MANDARIN), JASMINIUM GRANDIFLORUM FLOWER EXTRACT AND SIMMONDSIA CHINENSIS SEED OIL

Allergens: Benzyl Benzoate, Limonene, Linalool, Citral, Citronellol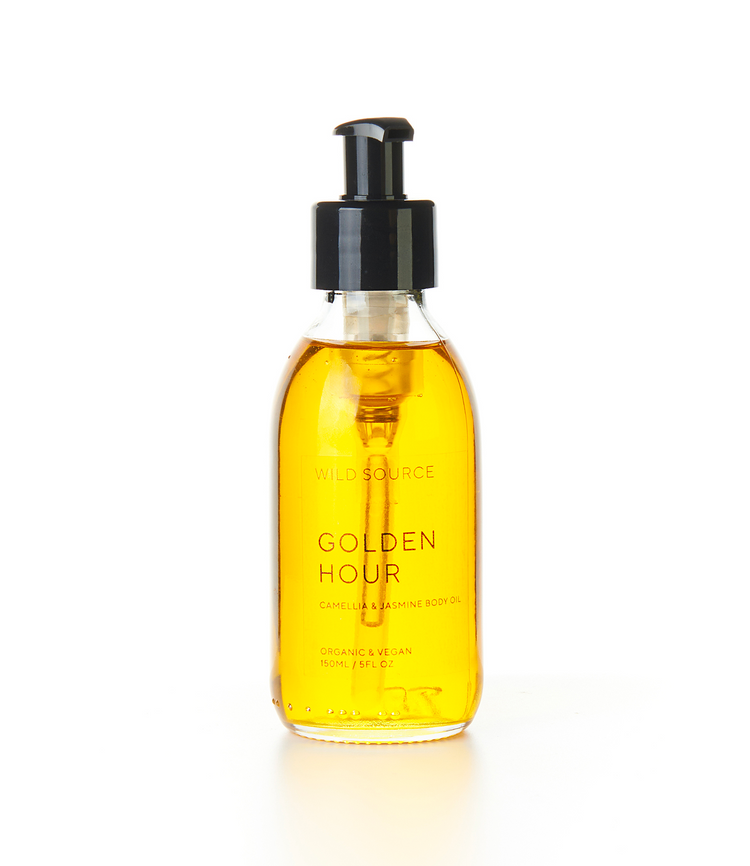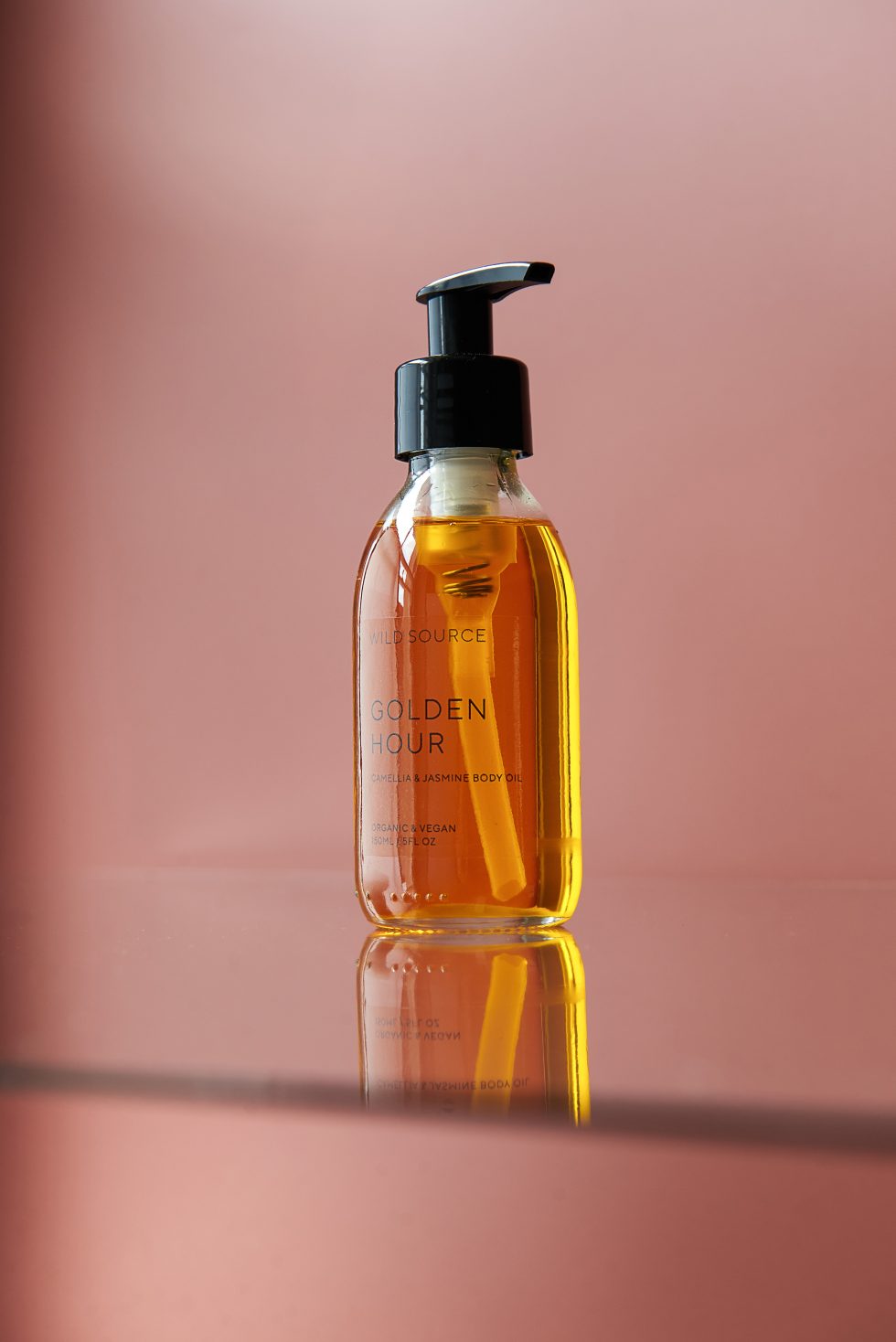 A closer look
Our award winning, luxurious body oil is designed to nourish your entire body. The silky, velveteen formula glides over your skin effortlessly providing long-lasting hydration and a healthy glow. Using only pure botanical oils, Golden hour leaves behind a beautifully delicate scent of Jasmine & Mandarin whilst helping to improves elasticity and lock in moisture.

"Golden Hour is one of those products you don't think you'll need until you try it, then you realise you can't live without it. I wanted to create a body oil that gave me long lasting hydration but didn't feel sticky or greasy- Enter Golden Hour. The scent is beautifully feminine and lasts on your skin for hours" - Kate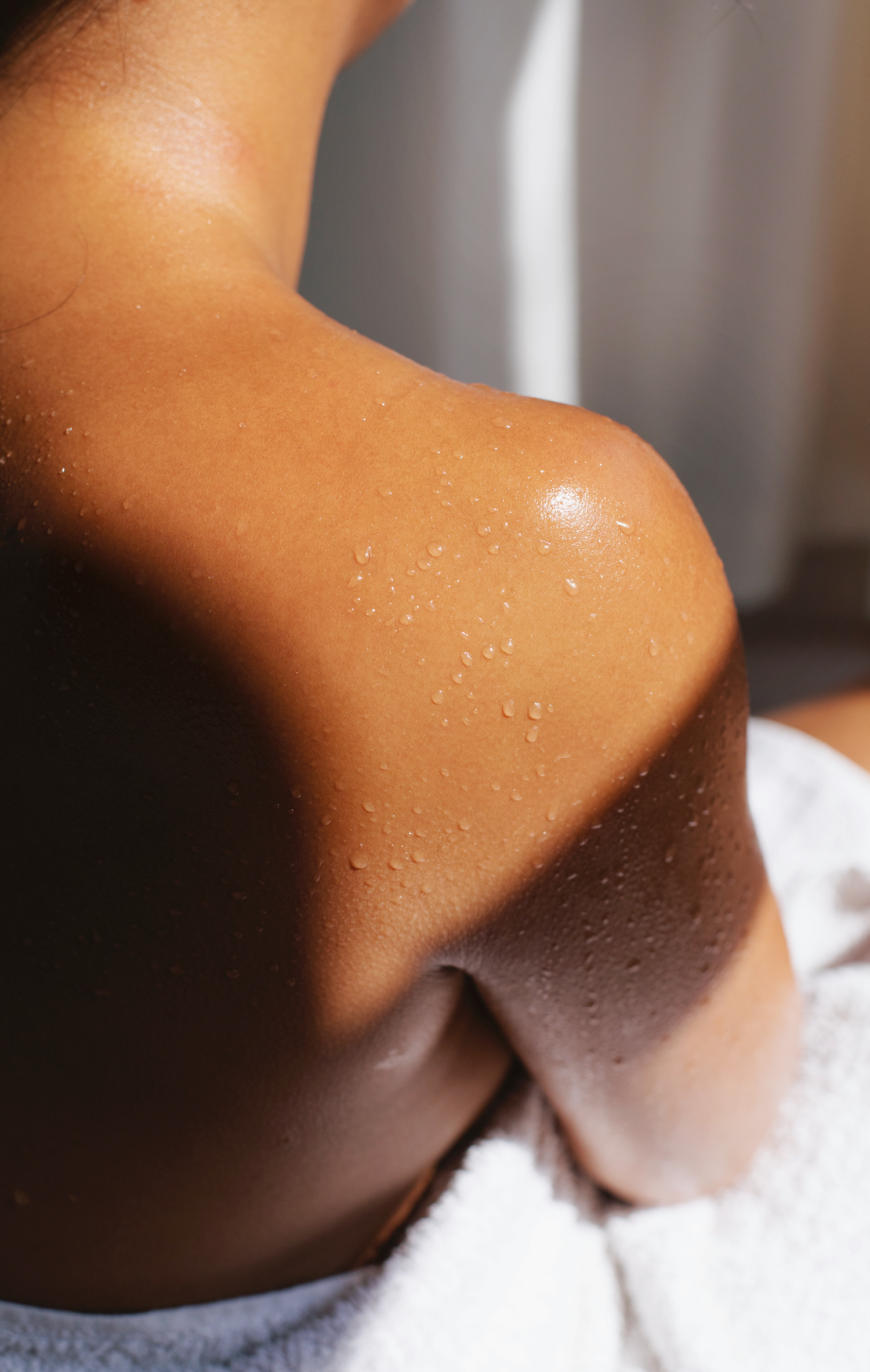 The Ritual
After a shower or bath, take a couple of pumps of oil into your hands and massage in a deep circular motion onto damp skin. This allows for better absorption. Take some deep breaths, inhaling the sweet, uplifting scent of Jasmine & Mandarin. Use as desired to soothe and hydrate all skin types.
Why Choose Us
RITUALS, NOT ROUTINES
We believe in taking a mindful approach to your skincare ritual.
NATURAL INGREDIENTS
Wild Source products are ethically made.
VEGAN & CRUELTY FREE
Organic botanical ingredients, vegan & cruelty free.
KNOWLEDGE
We want to empower you to understand how your skin works.
So you know...
Due to the nature of our products being from naturally derived plant extracts, the colour of the oils can slightly differ. The chemical compound of the ingredient is exactly the same however occasionally the end result can mean that the oil is either slightly lighter or darker. This has no bearing on the efficacy nor the freshness of the product. Store away from direct sunlight and in a cool, dry place.